Comment. Sold. Earn.
Comment selling is quickly becoming the most effective way for boutiques to sell online. It's easy to set up and start selling, buyers have an enjoyable buying experience, and our users are achieving exceptional results.

Sell on Facebook
Schedule posts and use Facebook Live and Messenger to connect.

Sophisticated Automated Invoicing
Customers receive immediate confirmation.

Complete Inventory Management
Manage inventory across all of your sales channels.

Seamless Omni-channel Experience
Spend your time in one system that has it all.
Sell on Facebook
Schedule Posts to Groups/Pages
The ability to schedule posts and work ahead of time.
Facebook Live
Video is the fastest way to engage your online buyer and it's now easier than ever with Facebook Live.
The perfect way to get rid of excess inventory; great for sales and liquidations. Your Facebook Live selling also allows a glimpse into the culture and personality of your business giving your shoppers a personal connection with your brand.
Facebook Messenger
Keeping your customer informed on a personal level has never been easier. If a customer has never shopped with you before, the system automatically sends them a FB message regarding the status of their comment. Once registered, they'll receive their receipt for any purchases, the status of any comment once its made, and tracking info once shipped.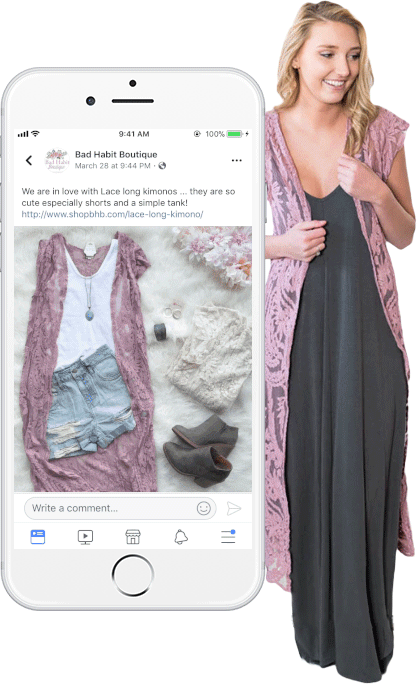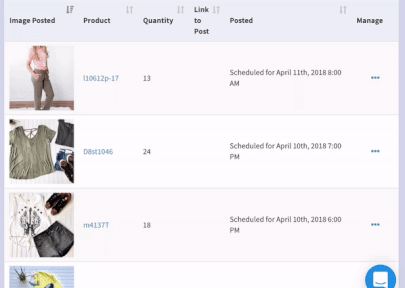 Complete Inventory Management
We have you covered for the entire lifecycle of your inventory management from the moment you purchase inventory until it arrives to your customer's door. Its as simple as bulk printing shipping labels and pick lists, gather your orders and pressing fulfill. Our tracking also allows for a full view of fulfillment metrics to aid you when purchasing your next batch of inventory.
Shipping
Shipping is a breeze with our integrated and automated processes. We also have important 1-hour and 24-hour free shipping features to quickly run promotion for loyal customers.
Repost Inventory
Mostly used when you have lingering inventory to sell. If the item isn't completely sold out, you can use this feature to post it __x__ amount of days until it's gone.
Waitlist Inventory
Sellers can finally get a grip on their inventory buying. We also have a Waitlist Clear feature that allows you to quickly clear out all waitlisted customers when an item is no longer being stocked.
Mass Fulfillment with Barcodes
Foolproof your fulfillment system with our advanced inventory control barcode integration. Use barcodes and quickly scan-to-fulfill orders as fast as they come in.
With our barcoding system in place boutiques can mass print all shipping labels and the inventory pick lists for all orders ready to be shipped. Once picked, the order gets marked as fulfilled, they scan the pick sheet, scan the barcode of each item in the order, and the order auto fulfills itself sending the tracking # to the customer. If a packer scans the incorrect item, the system will not allow them to move forward and fulfill that package.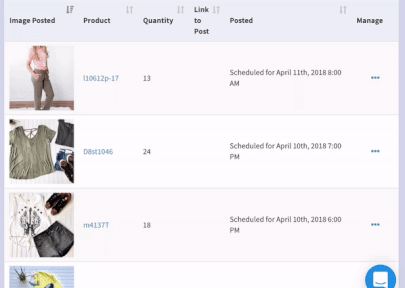 Sophisticated Automated Invoicing
Your customers don't have to wait to complete their purchases; they'll receive an email confirmation as soon as they comment, "sold." In a day when capturing the buyer's attention is harder than ever. If the buyer hasn't registered a card, a reminder is sent to them via Facebook Messenger to do so.
Not only do our buyers shop faster with Automated Invoicing, boutique owners save time by avoiding manual invoicing!
Coupons
Easily provide discounts to your customers with coupon codes! Perfect marketing tool when conducting promotions.
Payment Processing with Stripe and PayPal
Credit card payment processing is made easy with our Stripe and PayPal integrations. Customers feel secure checking out.
Refunds and Returns
Never leave the CommentSold platform to process a return or refund. Our sellers can choose whether they'd like to return the item back to inventory or not, print a barcode (if enabled), and refund the customer in the form of account credit to be spent later, or refund back to their card.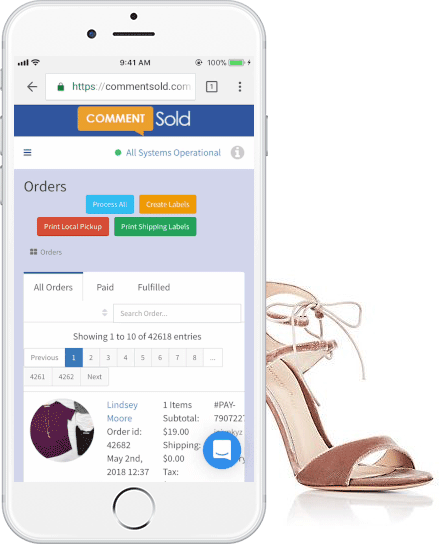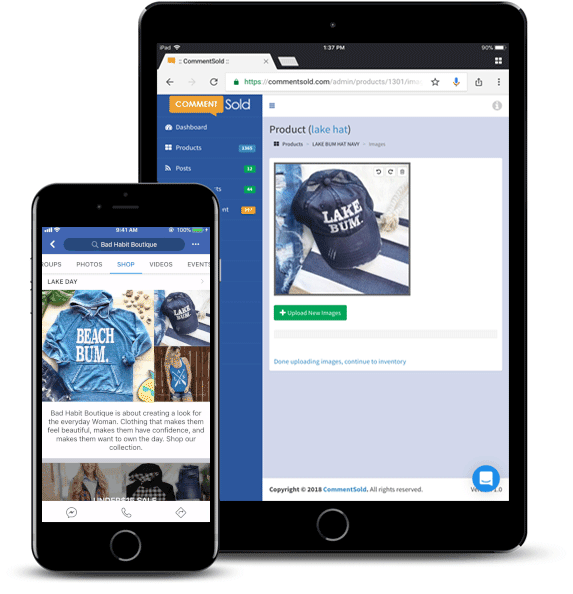 Seamless Omni-channel Experience
Spend your time in one system that manages inventory across all of your sales channels. While your online store showcases your brand and offers the most control over customer experience, expanding the ways you sell with CommentSold allows you to do even more. All controlled from one platform.
Facebook Group
Web Store
Mobile App
Team Accounts for Staff and Vendors
Provide the exact access needed to those that help your business grow. Quickly create their employees accounts to log in and view only the tabs that pertain to their job/duties. Vendors also have the ability to review inventory levels to help in reordering.
Buyer Analytics with Reports
CommentSold aims at improving the relationship with existing customers, finding new prospective customers, and winning back former customers.
Today you can:
Save notes for customers accounts.
Review physical addresses of buyers to spot geographical trends.
Track total dollars amount spent and returned per customer.
Find your top spenders with easy analytic reports showing the dollar amount of spent so far. Have some customers that just really aren't the best fit for you? You can also see and better manage the relationship of customers with high inventory returns and frequently abandoned shopping carts.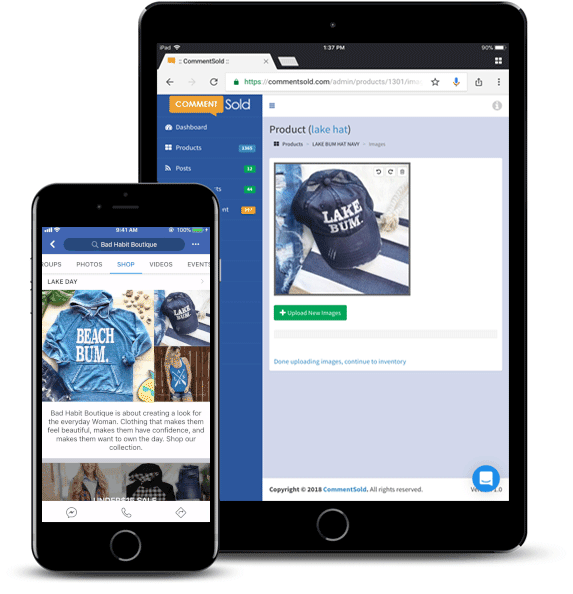 Integrations
Inventory & Website

Already have a Shopify website and want to use CommentSold for your Facebook sales? The new Shopify integration with CommentSold makes it easier than ever to list your products on your loyal facebook group and get next-level brand visibility.
For boutiques that are already selling on Shopify, this integration can increase sales by reaching new shoppers who are not using the traditional website means.